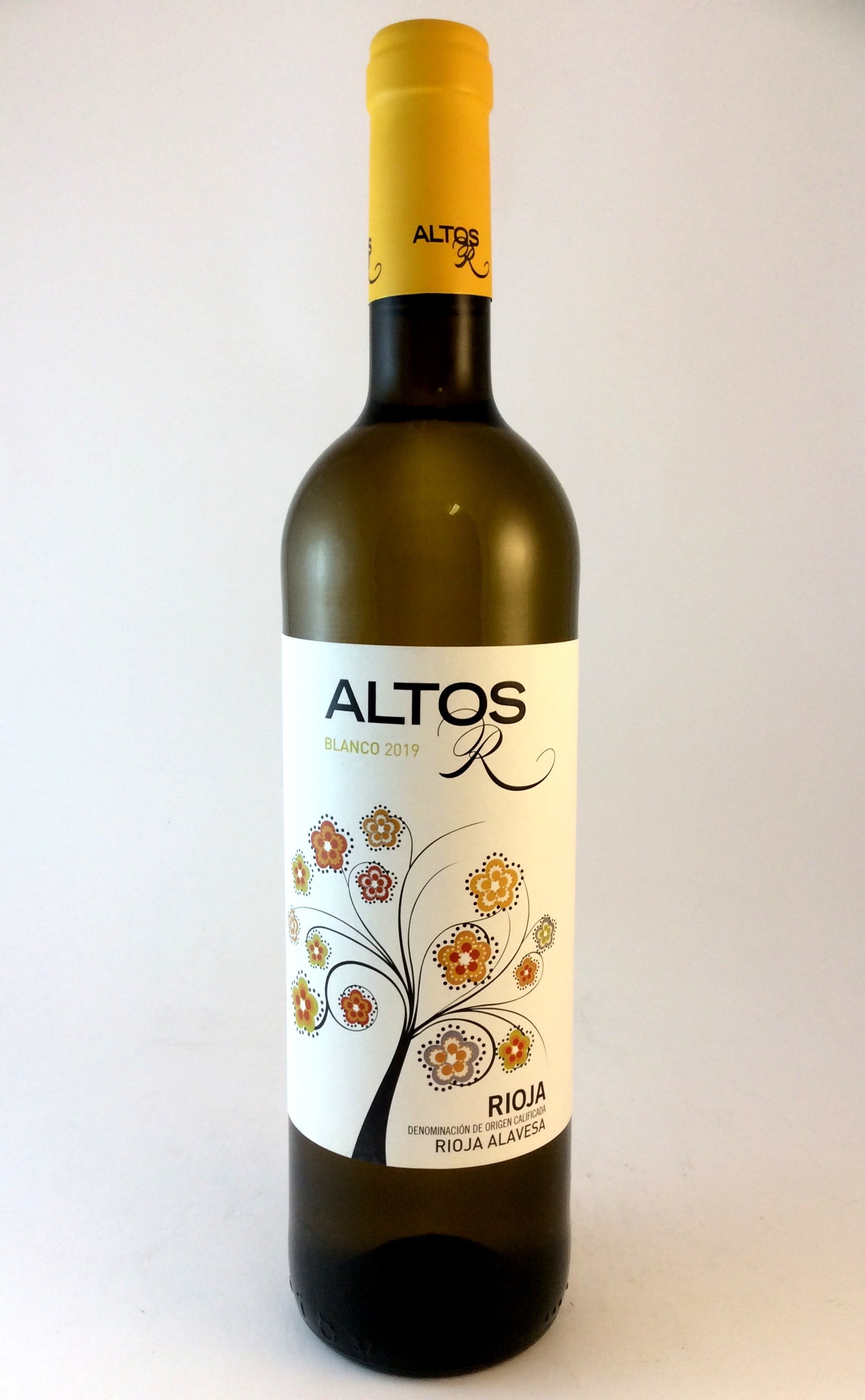 Rich and complex barrel aged white Rioja - Made from 100% Viura from 30-60 year old vines, blended parts - early picked fruit fermented in steel for aromatic profile, and later picked fully ripe fruit barrel fermented for richness. The final wine is then aged in French and American oak for 4-6 months.

Aromas of ripe apricots, nectarines and sweet raisins are contrasting with bright lemon and grapefruit notes creating playful gracious nose. Oily wine texture fills up the mouth with green citrus and nutty flavours, complemented by bright acidity and layered structure. Clean long finish leaves craving for another sip.
Altos de Rioja has old vineyards that extend in the highest levels of Rioja Alavesa, on Cantabria mountain range slopes, in Laguardia, Elvillar and Kripan municipalities, at an elevation of 600-700 meters above sea level..
About white Rioja:
La Rioja is arguably the most famous wine region in Spain, in an ideal location for warm climate viticulture - tucked under the Sierra Cantabria mountains that protect it from the cool Atlantic Ocean. World famous are their red wines, that account for nearly 90% of production, lesser known are their excellent white wines.
The key white grape in Rioja is known locally as Viura - and in most of the rest of Spain and the world as Macabeo. While there are 2,000 hectares grown in Southern France, it's undisputed home is Northern Spain where vineyards exceed 30,000 hectares. Outside of Rioja it is one of the three core grapes that make the Spanish sparkling Cava wines.
Viura transforms in style depending on the treatment in both the vineyard and the winery- if picked early and cool fermented in steel tanks it typically produces a crisp aromatic dry white skin to a Pinot Grigio or dry Riesling with citrus and floral notes. If picked later, and barrel fermented it makes a richer, textured and waxy fat wine featuring stone fruits, more like a Chardonnay/Viognier.
Altos winery describes themselves as relative newcomers to the region, formed by acclaimed Spanish winemakers Roberto San Ildefonso and Bienvenido Muñoz together with young French winemaker Jean-Marc Sauboua. They combine old vines with modern winemaking facilities and techniques.
Altos vineyards are some of the highest (and therefore most sought after) in the Rioja Alavesa subregion, 600-700 meters altitude. This resluts in hot days, but cooler nights during the growing season. The result are wines of finesse and complexity.
Free shipping for orders over $250 or 24 bottles.
Shipping Options (per 12-bottle case or part case)
North Island - $5.90
South Island - $9.90
Waiheke Island - $18.00
Rural delivery address - +$5.00
To check whether your destination address is considered Rural you can use the address checker on our courier's website here.
North Island deliveries are usually made between 1 and 3 days depending on the location it is being sent. South Island deliveries are usally 2 to 5 days.
Order before 1pm to get into the same day's courier run.